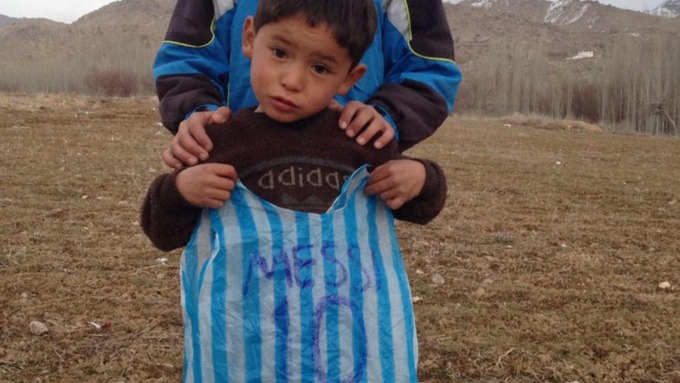 5 year old Murtaza Ahmadi wore a Lionel Messi's shirt made from polythene bag, and he became instantly famous.
The photograph of Murtaza Ahmadi dressed in the blue and white stripped bag with a crudely drawn 'Messi 10' on to make it look like an Argentina shirt, went viral earlier in January, with many attempts made to track down the child. In the end Murtaza was found in Jaghori, south-west of Kabul, after a lengthy search which had thrown up many false leads.
"When he suddenly wakes up in the middle of the night, he starts crying that he wants to go to Messi," his father, Arif Ahmadi, told CNN.
Eventually the boy's father gave into his insistence to provide a Messi shirt. "I told him that we were living in a poor village far from the city and it was impossible for me to get him the shirt," Ahmadi said "He kept crying for days asking for the shirt until his brother Hamayon helped him make one from the plastic bag to make him happy.
"He stopped crying after wearing that plastic bag shirt.2 Murtaza's brother Hamayon posted photos of his sibling joyfully donning the carrier bag. Originally it was thought the child was from Iraq, but after lengthy research he was located in Afghanistan.
It is believed Messi's representatives have attempted to get in contact with the youth in order to provide him with some bona fide kit.