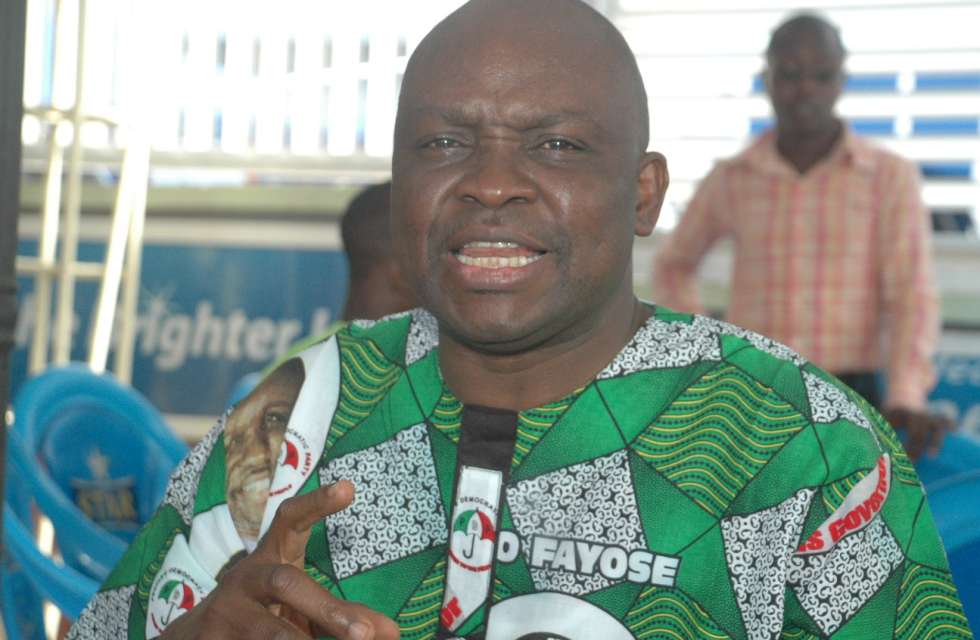 Governor Ayo Fayose has banned grazing in the state following the attack on Oke Ako in Ikole Local Government Area of the state by suspected Fulani Herdsmen that left 2 dead and 3 injured. Fayose said that those interested in cattle farming should get their own private cattle ranch.
The governor stated this when he visited the community on Monday.
We will not leave our lands for Fulani herdsmen and in a system where the leadership of the country looks the other way while our people are being killed, we will have no option than to defend ourselves by whatever means.
I have come here to commiserate with the people of Oke-Ako over the murder of two of our people by these evil Fulani herdsmen. I am also here to assure that this will be the last time your community will be invaded by Fulani herdsmen under whatever guise.
I have directed that cattle rearing and grazing should stop in Ekiti State and those interested in cattle farming should henceforth do so in their own cattle ranch.
No more movement of cattle from one location to another in the state and any cattle seen anywhere in Ekiti State apart from the ranch created for them by their owners will be confiscated by the government and their owners will be prosecuted.
A bill to this effect will be sent to House of Assembly for passage into law to criminalise cattle owners whose cattle are found moving from one location the other in the state.
Fayose alleged that President Muhammadu Buhari as the patron of the Miyetti Allah Cattle Breeders Association of Nigeria had refused to call the herdsmen to order.
"We in Ekiti will no longer harbour herdsmen who go about killing our people, destroying our farmlands and raping our women.
If the same President Buhari that was so concerned about the killing of Fulani herdsmen in Saki, Oke Ogun Area of Oyo State such that he, as a private citizen led Arewa to Ibadan on October 13, 2000, to confront the then Governor of Oyo State, late Alhaji Lam Adesina, is now keeping silent when the same herdsmen are killing our people, we must rise and defend ourselves.
It is our duty to protect our people and we are going to do that without fear or favour," he said.
According to PUNCH, the governor donated N2.5 million to the families of the victims and another N2.5m to support the hunters and vigilante group. He also promised to provide a patrol vehicle to the vigilante group to support them in surveillance.